This shop has been compensated by Collective Bias, Inc. and its advertiser. All opinions are mine alone. #CreateWithHP #CollectiveBias
It's back to school time! This is one of my favorite times of the year!
The excitement of a new school year. New goals to tackle. New experiences to enjoy. Not to mention, new school and office supplies!
The desktop computer in my office has seen its better days. It's beyond repairing and simply needs to be replaced. While I wait to save enough money to replace it, I'm working on the very old laptop or my husband's computer.
This works fine, most days. There is one problem, though, the printer. The only printer we had was attached to my office computer. It also is old enough to not have updatable drivers to work with Windows 10, which is the operating system on my husband's computer. It's an HP printer that we've had for over 12 years. It's a workhorse and has been the most reliable piece of office equipment we've ever purchased. I didn't want to let it go.
With our new school year quickly approaching, the need to print forms and papers is becoming more important than ever. Especially since Miss Mary will be a dual enrolled college student this year! Yes, my youngest child is about to begin her sophomore year in our homeschool and her first college course at our local college. She is also taking her first online course this year. Many changes for the 2017-2018 school year for us!
Since Mary likes very much to be organized and has much to keep track of, we created a dual enrollment student planner for her to use in both her high school and college studies.
Obviously, these printable forms needed to be, well, printed!
The time had finally arrived to purchase a new printer. Off to Walmart we went. I wouldn't consider any other brand. I'm a die-hard HP printer fan.
The other consideration was space. My husband's computer area is very lacking in extra space. I needed to find an HP printer that had a small footprint, but also had all of the features that I need, such as copying and scanning.
Check out this new HP Deskjet 3722 All-in-One Printer/Copier/Scanner
 that I bought! It is small, but also a workhorse!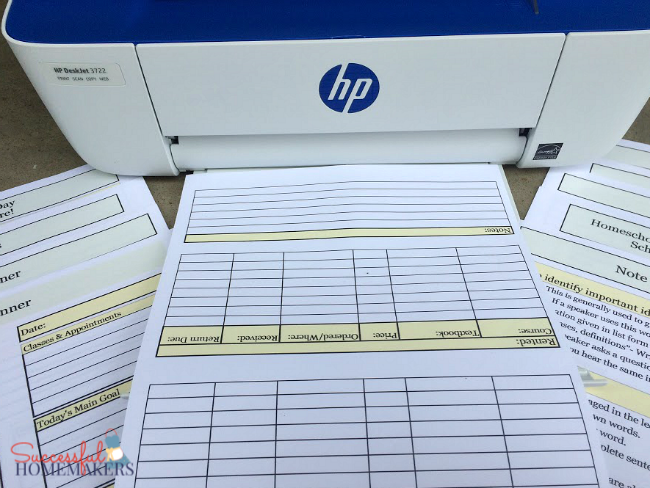 Want to get into your own BTS organization groove? Hover over the photo to shop this one-of-a-kind printer!"
You can find this printer in both the electronics department, with the printers, or in the back to school section of your local Walmart. Check also to see if you can attend an in-store demo to see this printer in action! In-store demos are held Friday, Saturday, and Sunday in many locations around the country.
The fun colors available at Walmart are Sporty Purple, Poppy Pink, and Dragonfly Blue. Obviously, my favorite color is blue, so Dragonfly Blue was the color that I chose to purchase.
Setting this printer up was a breeze. It's now connected to our wireless network so that anyone in the house can print from anywhere! This makes my family quite happy.
My favorite feature is the ability to print from my phone. For example, I recently purchased tickets to a concert. I was able to send the tickets from my phone to the printer in a few simple clicks.
I also love that I can scan a document or photo with my phone (or tablet) and wirelessly send those images to the printer.
The size of this printer is impressive. It fits on even the most crowded of desks (ahem, Honey) Or I can store it in the office and be able to print from anywhere in the house. The convenience of this printer is phenomenal!
Once we had our new printer at home, it was time to print all of our forms and set up a binder notebook for the school year. These binders are a favorite office supply of mine. They're relatively inexpensive, durable, and make organizing paperwork a breeze. Mary loved the bonus of this one- it has a clear cover so that she could print a personalized cover.
Back to School Dual Enrollment Student Planner
This particular cover is a drawing that Natalie did before she died. It's a treasure for Mary. Since Natalie was so very encouraging to Mary to begin dual enrollment, she wanted to have something from Nan with her at the college. (Natalie also took dual enrollment courses and encouraged Mary to do the same.)
We also purchased a set of tabbed dividers to organize all of these papers. Mary likes the crisp, clean look, so we went with white.
After printing all of the forms, it was time to hole punch them and place them in the binder. Of course, Norris K, our cat, felt the need to assist in this process.
You can download your own copy of this by entering your e-mail address in the box below. You'll be taken to the download page right away! Both black & white and color versions are available.
Included in this back to school dual enrollment student planner pack are 10 different forms:
1. Assignments
2. Class Schedule
3. Course Info
4. Daily Planner
5. Homeschool High School Supply List
6. Notetaking Helps
7. Organize Your Day the Night Before planner
8. Project Planner
9. Study Notes
10. Textbooks Order Form
Check out this post for more back to school planner pages you can download for free!
Do you have a dual enrolled student this year? I'd love to hear any tips you have to share!
Read more on this topic with these posts!