With approximately 9.6 billion acres of trees covering our planet, inspiration for your Autumn decor is all around you!
Orange is my favorite color, so I really enjoy decorating for Fall. I prefer vibrant, cheerful, orange over the season's common "burnt orange." Even though Autumn is a time of falling, decaying leaves, I try to create an atmosphere in my home that is warm, cheerful, and inviting. The best part is, it can all be done on a frugal budget!
Fill your home with smells of the season!
I am loving wild-berry cheesecake, and ginger spice cake right now. Both are available at Walmart for about $2.00 for an 8 pack of tarts. If you turn them off once your home is filled with scent, I find they can last 2-4 days a piece, and I don't use mine EVERY day, so 2 packs a month is MORE than enough for me, but it gives me a variety to choose from. , More traditional scents for this time of year like pumpkin pie, and apple pie are nice as well.
One that is a little different, that I have found in previous years that I really enjoyed as well, was mulled cider. It smells like being at the cider mill! If you don't have a tart warmer, you can pick up an old pan from goodwill and heat your tarts on the stove until just melted, just make sure you don't leave it on the heat! I bought a ceramic dish, and a cheap candle warmer to use for melting my tarts. It works great! You can go with traditional candles as well, if you prefer.
Something easy, that can totally transform the room, is adding a simple table cloth or table runner, a long strip of fabric that goes down the center,  to your table. This does not need to be expensive. Often times the dollar store sells table cloths and runners, or, you can do what I did, and buy a fabric remnant and make your own! At the time I didn't own a sewing machine, so I used liquid stitch to hem the edges and form the points at the ends and it has held up to several washes. I think the remnant cost me $.88!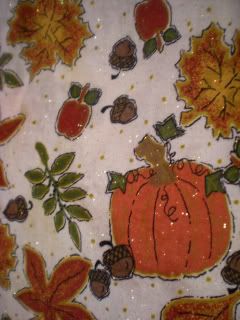 If you want simple and elegant, go for a solid color, or a very small pattern. I tend to favor table runners because it still allows my beautiful wood table to be showcased. If you want funky and fun, pick an eye catching print with a seasonal theme. Mine, for example, has typical harvest pumpkins, and acorns…but…it also has GLITTER!
If you know me, you know I LOVE ME SOME GLITTER!
Finish off the table with some cute place mats, and a pretty centerpiece. Be creative! Anything from a classic cornucopia, or fun, colorful gourds, to pretty tinted glass jars in different jewel tones, like the one below from my pinterest board, would really make the table look beautiful and complete!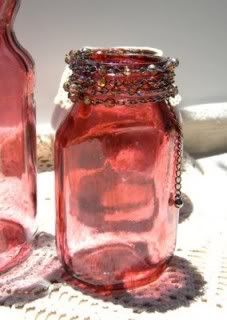 Lastly, I like to also have colorful decorations at or above eye level because it just gives my home a more festive feel. This can be accomplished in many different ways. An eye-catching wreath, a leaf swag draped across the curtain rod at the top of your windows, or  inexpensive window clings are all ways that you can quickly and easily dress up your home.
OR….
You could make a keepsake turkey banner with your family's hand prints to hang up every year and give you the warm fuzzies every time you see it! Make it personal adding appliques, ribbons, flowers, or whatever you like that will personalize it and make it your own!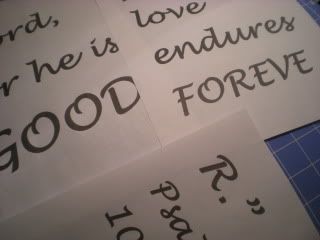 What's something you do to decorate for Autumn?